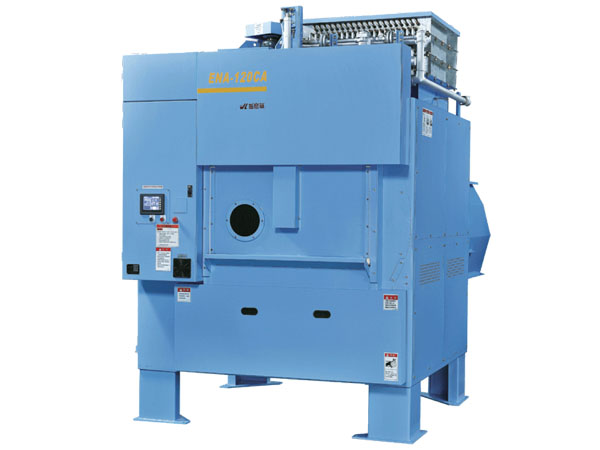 Automatic Dryer
Model:ENA-150C
Multi-function Dry and Safety
Clearly identified LED control panel provides setting of 15 drying strikes, allowing for accurate management of drying operation.
With using advanced technology heater and unique designed blower, this machine has high efficient drying capability.
The inverter controls blower's start and speed and automaticchecking intelligent blower rotation control system, when air exhausting has backpressure in checking, the rotation speed of blower would be automatic revised, won't be controlled by air exhausting backpressure to influence the drying.
Easily clean side cotton screen, big door diameter,clean easily.<can be drawn out from the rear side for clean>
12.7mm square holes, the opening percentage of the internal barrel reaches 64%, increasing ventilation efficiency, higher drying speed.
Advection hot air design, let more hot air blow the linen, do not waste the hot air, effecting the drying time shortest.
6 agitating rods have a good agitating result, reduce bed sheet tangling or the rubs between bed sheet and internal barrel that lower the cotton wool and extend the linen lives.
1672mm large internal barrel permits linen fully unfolding for drying, with using rotation control of drum, preventing linen from unevenly drying or tangling.
Unique drum operation control, preventing linen from crushing or tangling. If the bath towel has much water, the rotating speed will be low; if there is little water, the rotating speed will be fast. Half-drying bed sheet, quilt cover etc., the clockwise rotation is slow,counterclockwise rotation is fast.
Can with output convey belt, save carrying time, improve working efficiency.
Patent Number
:ZL201130329757.2
Mode

ENA-150C

Loading(kg)

150kg

Total capacity

9.7kw

Distill speed

256 kg/hr

Pipe
Steam

2"

Steam consumption

528 kg/hr

Cooling water

1 1/2"

Drum

Diameter(mm)

1,672 mm

Air

3/8"

Depth(mm)

1,445 mm

Required steam pressure

7.0 kg/cm2

Capacity(Liter)

3,171L

Air consumption

35 NL/Time

R.P.M

clockwise 25rpm

Duct pipe

Φ600mm or 3,000cm2

counterclockwise 30rpm

Power supply

3ph 220v/380v 50/60Hz

Punch hole

12.7mm square

Distributed electricity

14 mm2/8mm2

Air flow

200 m3/min

Maximum current

36A/22A

Door dimension
Front

1,100*577mm

Breaker

75A/50A

Rear

Φ1,584mm

Dimension(Height size including 350mm shelves height)

2355Wx2725Dx3040H

Controlled by

Touch Panel

Net weight

2,200kg

Motors
Drum motor

2.2 kw×4P

The material inner container
Baked paint
Blower

7.5 kw×4P