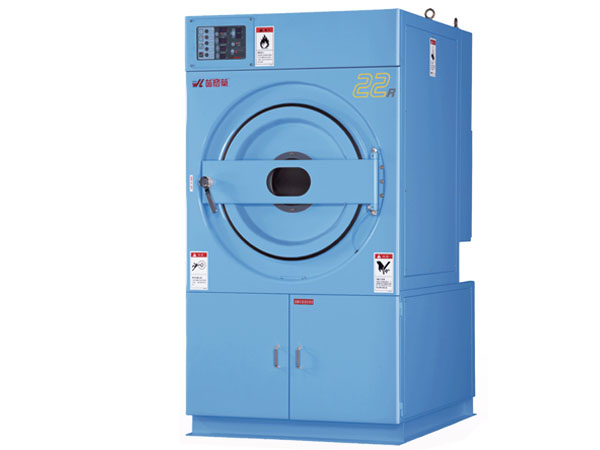 Automatic Benzine Solvent Recovery Dryer
Model:ENA-22R

Semi-open type refrigerant reclamation enables highreclamation percentage, preventing pollution without public harm.

Micro-computer control combined with special sensor for temperature regulation minimizes gas explosion and danger while ensuring maximum safety.

Various errors will display on the screen automatically.

Once power is turned on, if there is no motion over 30 minutes, power will shut off automatically.

6 programs input capability. Washed clothes can be dried.

Heat energy from compressor is reclaimable for saving energy.

Low temperature drying is suitable for fine clothes.

No need to use cooling tower or chiller.
Mode

ENA-22R

Loading(kg)

22kg

Compressor

High pressure setting

26 kg/cm2

Drum

Diameter(mm)

800mm

Low pressure setting

3.0 kg/cm2

Depth(mm)

800mm

Controller to prevent frost

95℃

Capacity

402L

Low pressure processor

5/8"

R.P.M

35.36.37.38.39.40 rpm

Pipe

Steam

1/2"

Punch hole

Φ6 mm

Cooling water

1/2"

Air flow

25m3/min

Condensing temperature

4℃

Door dimension

Front

Φ560mm

Steam pressure

7.0 kg/cm2

Rear

*

Duct pipe

Φ200mm

Controlled by

CS-168

Suggest use of refrigerants

R22×1.5kg

Motors

Drum motor

0.4 kw*6P

Power supply

3ph 220V/380V 50/60HZ

Blower

0.75kw*4P/2P

Operating circuit

200V/220V

Refrigerator

2.2kw

Distributed electricity

2.0mm2/2.0mm2

Total capacity

3.35kw

Maximum current

13A/10A

Breaker

20A/20A

Dimension

1105W×1835D×2065H

Net weight

700kg