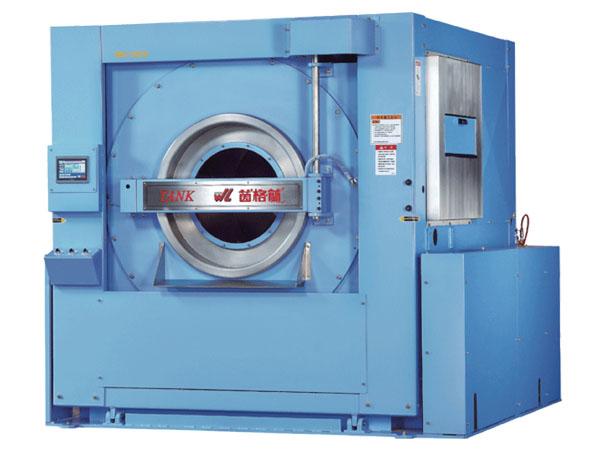 Automatic Washer
Model:WEI-120EB
Air Cushion Type Suspension System
During washing, the air cushion is in exhaust condition. This enables external barrel rest on the base, and the internal barrel will thoroughly agitate to ensure the best washing effect. During dehydrating, the air cushion is filled with air and the extemal barrel is in floating condition. The air cushion absorbs vibration completely. Incase unbalance occurs, the machine will adjust balancing condition automatically.
Control System
The control system employs a touch-sensing screen, and provides 30 programs. It also allows operator to set the desired washing programs according to types of clothes.
Excellent Durability
The external barrel of the washing tank is a welding structure, machine service life is long.
Economic
Single motor, simple structure but complete range of functions, suitable for several sets of machines using in a line.
SPECIFICATIONS
Mode
WEI-120B
Loading(kg)
120 kg
Pipe diameters
Cold water
2"
Drum
Diameter(mm)
1,290 mm
Warm water
2"
Depth(mm)
860 mm
Steam
1"
Capacity(Liter)
1,124 L
Rear water drain
4"
R.P.M
Wash (rpm)
20. 30. 35. 40. 45 rpm
Lower water drain
6"
Distribution(rpm)
57 rpm
Exhaust pipe
2"
Extract
150.300.420.550.660 rpm
Air
3/8 "
Door dimension
Φ808 mm
Suspension system
3 sets of cushions+shock absorbers
Controlled by
Touch panel
Tilt angle
*
Motor capacity
15 kw(20HP)
Power supply
3ph 220V/380V 50/60Hz
Required steam pressure
7.0 kg / cm2
Distributed electricity
22 mm2/14mm2
Compressed air
7.0 kg / cm2
Maximum current

55A/30A

Water supply
1,350 L
Breaker
100A/75 A
Essential water pressure
1.0~2.8 kg / cm2
Dimension
2030Wx2210Dx2250H
Net weight
3,620 kg